JBL SRX 712m speaker placement modeling.
The question is: "How bad do two JBL SRX 712m speaker mangle the sound when placed side-by-side?" Another pair of questions are "how does splaying the two speakers improve the sound" and "does cross-firing the speakers improve the sound?" For this purposes of this article, here are the speaker placements I'm using: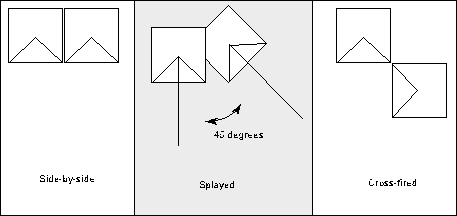 In the real world, the splay or cross-fire angle might be slightly different. This will affect the SPL field somewhat, but the rough effects will be about the same. Each of these placements produces considerably different SPL field patterns, a few degrees (or more) one way or the other will change some patterns, but not as radically as the different placements.
I modeled the speaker placements above using the G.P.A. v2.0 audio modeling program (Google it, it's a free program) at each of the following frequencies:
100 Hz
300 Hz
500 Hz
1000 Hz
2000 Hz
4000 Hz
8000 Hz
In generaly, because of the short wavelengths involved, there is no hope for even SPL field patterns with any frequency above 1-2KHz (this is true regardless of speaker placement). However, I included those graphs just so you could see how bad it gets (and there's nothing you can do about it, so just accept it). Note that the following graphs do not take room acoustics, boundary effects, or anything else into consideration. They assume a free-field (1-space) placement. Obviously, things will change in a real acoustical environment, but we're interested in seeing the effect of placing two speakers near to each other and the gross effects will usuall be the same regardless of the acoustical environment.
Quick note on the following graphs: "warmer" colors (e.g., yellow and red.) represent higher SPL values, "cooler" colors (e.g., blue) represent lower SPL values.
First, the side-by-side graphs. As you can see, things look pretty good up to beyond 500 Hz. Somewhere between 500 Hz and 1KHz you start to get some serious combing, which get substantially worse as you climb above 1KHz.
100 Hz:
300 Hz: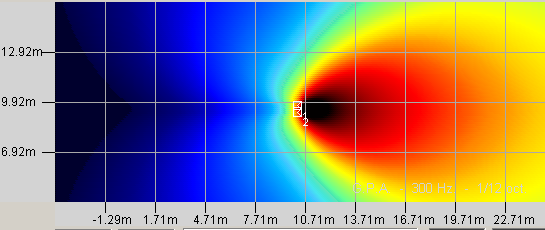 500 Hz: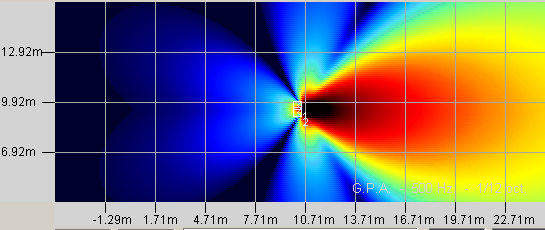 1KHz: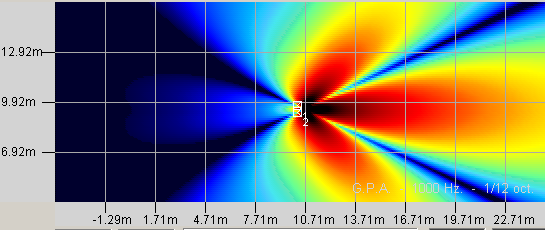 2KHz: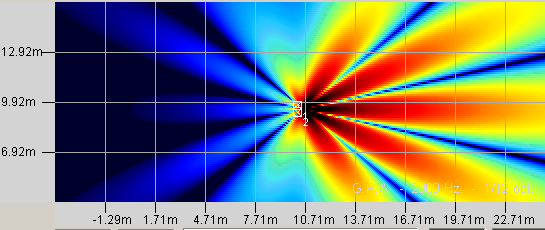 4KHz: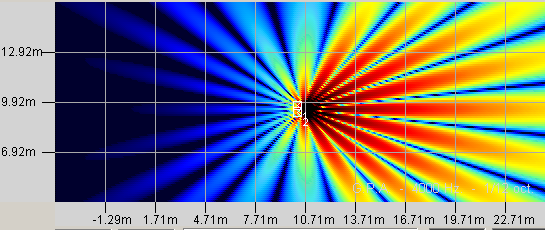 8Khz: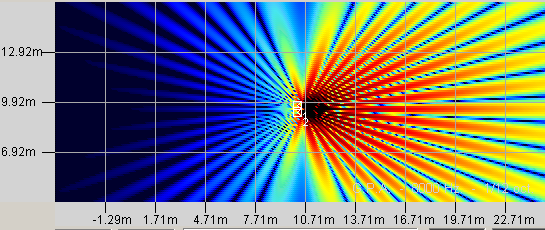 Okay, let's see what happens if we splay the speakers at a 45-degree angle (this is probably a bit radical, I suspect a decent splay angle for the SRX 712m cabs is closer to 30 degrees, but that won't change the effect much, just the positions of the comb teeth).
Note that with this splayed arrangement, you still get "power valleys". In fact, this particular arrangement shows a power valley at 500 Hz that wasn't present in the side-by-side model. However, at higher frequencies you'll note that you get fewer power valleys throughout the SPL field and they are less intense.
100 Hz: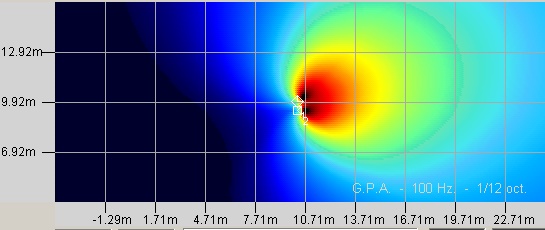 300 Hz: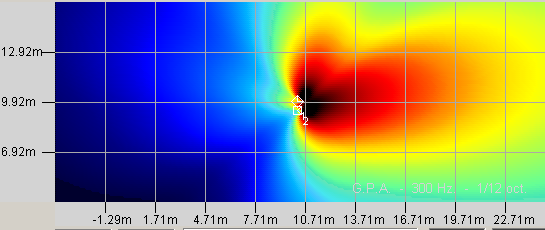 500 Hz: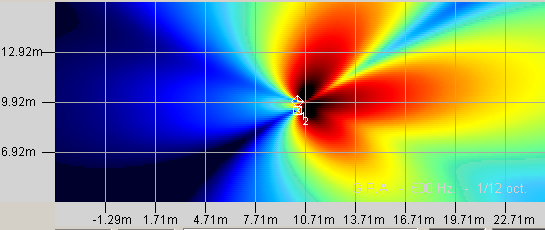 1KHz: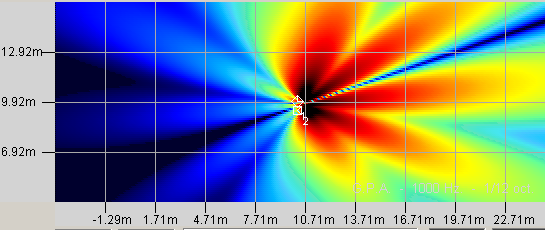 2Khz: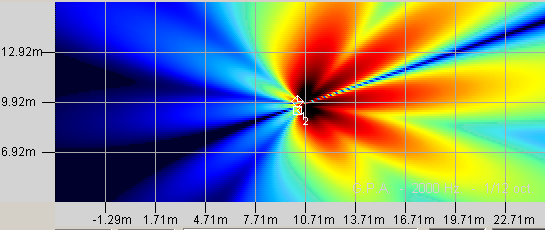 4KHz: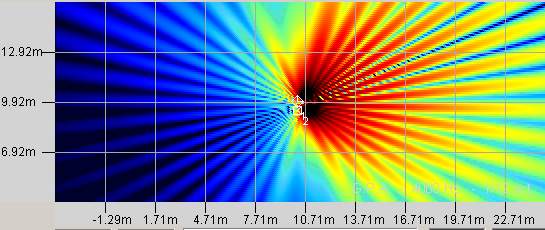 8Khz: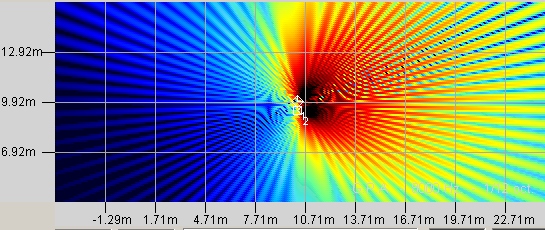 Finally, consider the cross-fired arrangement. Notice how much smoother the frequency
response is throughout the SPL field. BIG WIN!
100 Hz: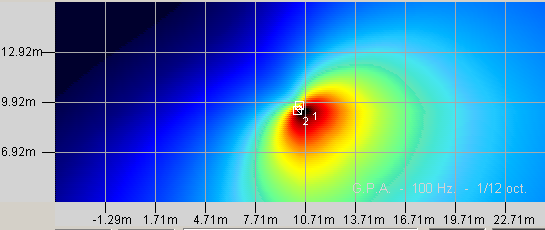 300 Hz: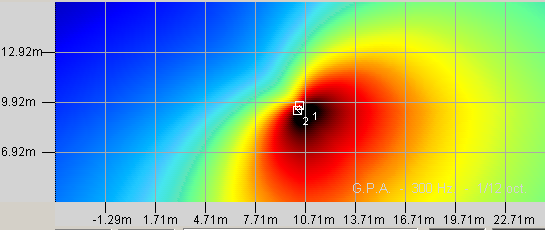 500 Hz: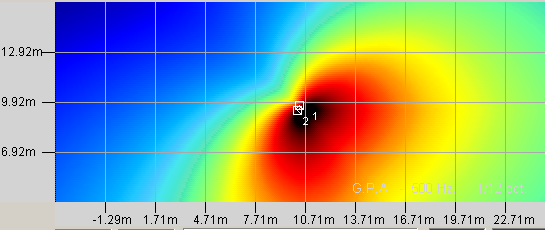 1KHz: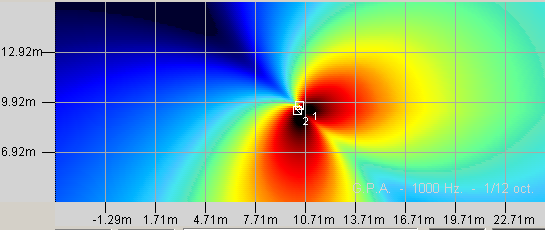 2KHz: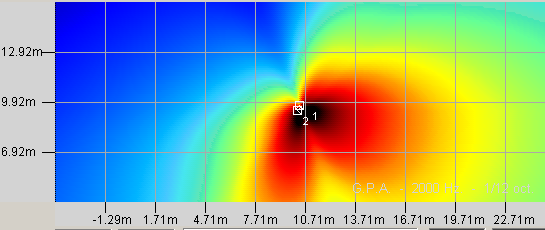 4 KHz: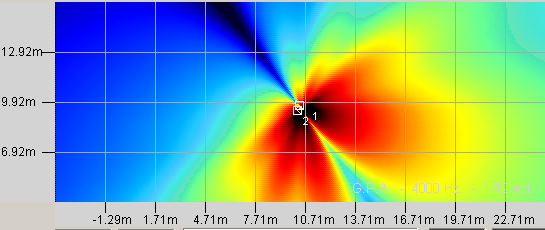 8Khz: